CBARC Members are welcome to submit their ham related items they wish to sell to info@w6jbt.org, and we will gladly post them here. Please submit picture(s) of all items for sale along with a explanation and contact information. Please see disclaimer below…
---
Vintage Yaesu FT-757GX HF station.
This package consists of an HF/general coverage all mode transceiver,  the matching FP-757HD heavy-duty power supply/speaker
 unit, and matching FC-757AT fully automatic antenna tuner with dummy load.  All are in good working and cosmetic condition.
Coverage is from 1.5 -29.999 MHz for the general coverage receive feature and transmit capability on all nine ham bands. All the
manuals, cords, and connecting cables are included along with an extra instruction manual printed for notebook use.
There is no microphone with this setup because it has only been used for CW and the key is not included in the sale.
$750.00     Cash or money order only please.
Contact Kris at n3fh@w6jbt.org for more information.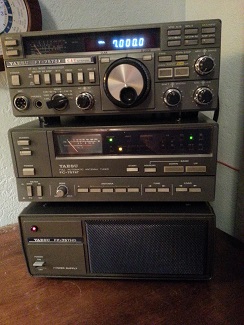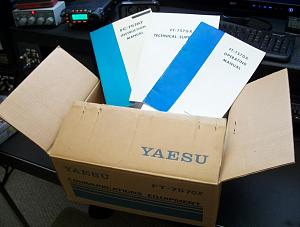 ---
NOTE:  All transactions must be made between seller and buyer. Citrus Belt Amateur Radio Club is not responsible for any sale transactions, condition and working order of all items sold or traded.
page updated 04/17/2019