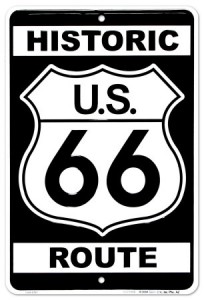 2013 Route 66 On The Air Pictures
QSL Cards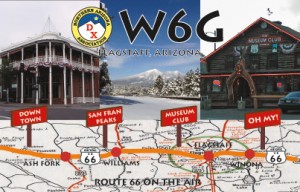 Submitted Photos
W6S (Captions courtesy of Dave NJ0W)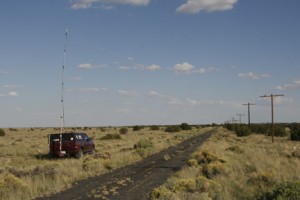 Tonight I operated 6 miles East of Winona, AZ, on a piece of abandoned 1920/30 Route 66.  This section of Route 66 eventually leads to the picturesque Padre Canyon Bridge and the iconic Twin Arrows Trading Post but is cut by Interstate 40 twice before getting there (off-roading required).  The pic is looking East.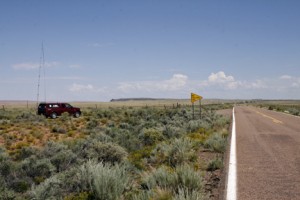 In the photo the trees surrounding the Park entrance station can be seen on the horizon slightly to the right of the Route 66.  Here 66 proceeds down the hill, is cut by I-40, and then proceeds through the park only as a shadow as the park service removed the paving many years ago and has let it return to desert scrub.  The mesa between the truck and the road sign is where the well-known Painted Desert Inn and North loop through the park is located.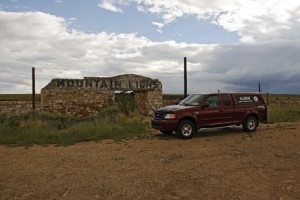 Two Guns is a unique Route 66 ghost town that has a history going back well before the opening of the West.  Memorable history starts with Spanish Conquistadors passing through the area and the local Indian tribal conflicts where a group of Apache raiders were trapped and burned/smothered while hiding in a cave they were using to operate out of in the bend of Diablo Canyon.  The cave complex is related to the cracks in the local rock stratum caused by the impact of a large meteor and the resultant crater nearby 22,000 years ago.  The 'Apache Death Cave' became a tourist attraction after a trading post was established there when the West wall of Canyon Diablo was blasted to establish a crossing point for wagons.  In 1914 the National Old Trails Highway passed through town using this path.  With the re-designation as Route 66 in 1926 there have been different routings of through the town; the 1926 route crossed over the iconic 1918 concrete bridge that is still there, the 1938 realignment no longer crossed the bridge but rather straightened the route and crossed over a more modern bridge further North.  With each realignment the town shifted North following 66 roadbed and survived until the coming of Interstate 40 a hundred yards North in the 60's.  The final trading post succumbed to a fire and even the KOA campground built on the East side at the I-40 exit could not garner enough business to stay open.  Today the ruins are open to visitors and make for an interesting afternoon of wandering through the ruins that were mostly constructed of the local rock.
An interesting history of Two Guns can be found at <http://www.hkhinc.com/arizona/twoguns/richardson.htm>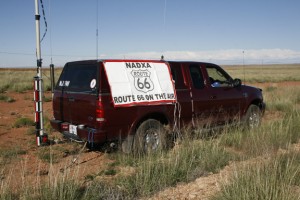 The spot I set up today was North of the Meteor City Trading Post located 5 miles or so Northeast of the well-known Barringer impact crater.  The spot is located about halfway between Winslow and Flagstaff Arizona.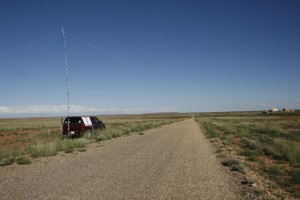 A pic of the op location on 66.  The Meteor City Trading Post can be seen on the right.